Minister of Investment, Eng. Khalid Al-Falih, today outlined the unparalleled Saudi investment opportunities that are available to German businesses.
In an event hosted by the Ministry of Investment of Saudi Arabia (MISA), the North Africa Middle East Initiative of German Business (NMI), and the German-Saudi Arabian Liaison Office for Economic Affairs (GESALO), the Minister outlined how Vision 2030 is driving the Kingdom's economic transformation, unlocking 12 trillion Saudi riyals' (EUR 2.7 trillion) worth of investment opportunities. Key sectors highlighted included renewable energy, green finance, automotive, petrochemicals, healthcare and life science, supply-chain, information communication technology and digitization.
The Minister also noted that the experience and expertise of many German companies meant they were particularly well-placed to take advantage of the opportunities that Saudi Arabia presents.
Speaking at the event, Eng. Khalid Al-Falih, said: ''Germany and Saudi Arabia are partners that share common interests and common goals. Our bilateral relationship is supported by strong economic and commercial bonds and by the great respect that Saudis have for everything German. However, we are punching below our weight, and there is huge potential for our commercial and investment ties to expand significantly.''
''Saudi Arabia's business environment has improved dramatically in recent years. The country is in the top ten in terms of the number of reforms enacted in 2020, according to the World Bank, and ranked second globally among the G20 countries in the World Economic Forum's Digital Competitiveness Report for the year 2021.''
Chairman of the North Africa Middle East Initiative of German Business (NMI), Ralf Wintergerst, added: ''German companies greatly value the opportunities that Saudi Arabia offers. Its vision to become a regional hub will further contribute to its appeal for business and will attract innovative companies from Germany.''
Germany is a key trade and investment partner for Saudi Arabia. It was the 4th largest source of imports to the Kingdom in 2020. and Saudi Arabia is home to a number of leading German companies-including Siemens and Bosch, which were among over 40 companies that recently signed Memorandums of Understanding with MISA to move their regional headquarters to the Kingdom.
The webinar was organized by MISA in partnership with NMI - an entity dedicated to fostering bilateral ties between Germany and the Middle East and North Africa (MENA) region - and GESALO.NMI supports visits to the MENA region by the German government (and vice versa), together with business delegations and advocates seeking to reduce trade and investment barriers in the region and within the European Union. Located in Riyadh for over 40 years, GESALO is the official representation of the German Industry in the Kingdom of Saudi Arabia. GESALO works to support German companies that wish to enter the Saudi Market and to help them identify business opportunities in the Kingdom.
Explore More News
Keep up-to-date with our latest News here.
Explore All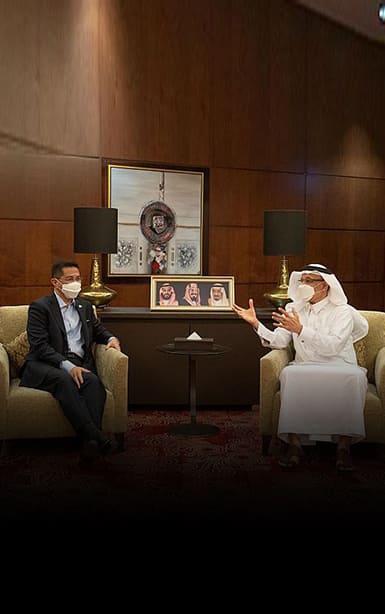 Minister of Investment, Malaysian Minister of International Trade Discuss Enhancing Cooperation and Investment Opportunities
Minister of Investment Eng. Khalid bin Abdulaziz Al-Falih met here yesterday with Malaysian Minister of International Trade and Industry Mohamed Azmin Ali, and his accompanying delegation, during his official visit to the Kingdom of Saudi Arabia.
Know More
Ministry of Investment and Cyprus-Saudi Arabia Business Association organize a webinar on Business and Investment Opportunities available in the Kingdom
The Ministry of Investment and the Cyprus-Saudi Arabia Business Association organized a webinar for business and investment opportunities in the Kingdom.
Know More