Government Agencies Extensive Participation in IMC's "Invest Saudi" Pavilion
Riyadh, Jumada II 10, 1443 H - Jan. 13, 2022 G, SPA-- A range of Government Agencies participated under the umbrella of "Invest Saudi" in the International Mining Conference (IMC) held in Riyadh on 11-13 January 2022. The participation made by 12 Government Agencies: Ministry of Investment, Ministry of Industry and Mineral Resources, Royal Commission for Jubail and Yanbu, Saudi Geological Survey, Local Content and Government Procurement Authority, Saudi Authority for Industrial Cities and Technology Zones (MODON), Saudi Export Development Authority, Saudi Industrial Development Fund, National Industrial Development and Logistics Program, National Center for Environmental Compliance, Industrial Center and Saudi EXIM Bank.
"Invest Saudi" Pavilion witnessed a turnout from investors and CEOs of major businesses and other interested entities, where visitors were briefed on the strategic objectives of the participating agencies, services and incentives offered to investors. The visitors were also briefed on digital services designed to achieve integration across government agencies to facilitate the investor's mission.
In addition, the Pavilion shed light on the promising opportunities in the mining sector, the initiatives and programs of the participating agencies aimed at enhancing the investment attractiveness of the sector, introducing the Kingdom's mineral wealth, objectives of the Mining Investment Law, and the incentives offered to businesses and investors, including financing and insurance.
The Agencies participating in "Invest Saudi" Pavilion highlighted the Kingdom's mining potential and large reserves, including iron, gold, aluminum, copper, zinc and phosphate, exceeding SAR 5 trillion, while investments in value chains and mineral- related industries amount to over SAR 200 billion. The Agencies seek to increase the mining sector's contribution to the GDP with SAR 240 billion by 2030.
"Invest Saudi" Platform is the unified national identity for promoting investment in the Kingdom of Saudi Arabia. The Platform provides information and data about available investment opportunities in all sectors; it is the main starting point for domestic and foreign investors to obtain assistance and support during all stages of investment, and it represents an initiative to achieve Saudi Vision 2030.
Explore More News
Keep up-to-date with our latest News here.
Explore All
Al-Falih: Saudi Arabia Boosts Competitiveness of Mining Sector by Laws and Regulations
Al-Falih: Saudi Arabia Boosts Competitiveness of Mining Sector by Laws and Regulations
Know More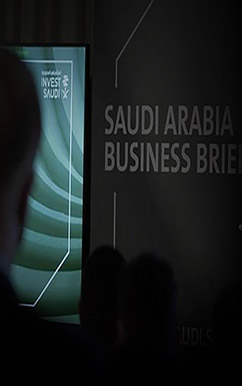 "Invest Saudi" briefs KSA Business Ecosystem and Investment Opportunities
"Invest Saudi" briefs KSA Business Ecosystem and Investment Opportunities
Know More