The Minister of Investment, Eng. Khalid Al-Falih, affirmed that Saudi Arabia has dealt with the repercussions of COVID-19 pandemic in a manner that surpassed many countries, through the leadership that demonstrated the Kingdom's resilience and its superior ability to deal with crises.It strengthened investor confidence, as foreign direct investment in the Kingdom increased greatly in 2020 compared to the previous year.
This came in session titled Leveling up: How will a new era of interdependence reinvigorate international investment? , during the Future Investment Initiative, with the participation of Dr. Rania Al-Mashat, Minister of International Cooperation of the Arab Republic of Egypt; Sultan Ahmed bin Sulayem, Group Chairman and CEO, DP World; Lord Grimstone of Boscobel; Minister for Investment at the UK Department for International Trade and Eric Cantor, Vice Chairman and Managing Director, Moelis and Company. The session discussed policies aimed at enhancing investment and business partnerships, reflecting the prevailing realities and geopolitical situations.
Eng. Al-Falih expressed his optimism about the future of the global economy. He indicated that the world went through similar circumstances 100 years ago, as it faced the Spanish flu, and then it was able to bounce back and benefit from the economic recovery. Today the world is facing the COVID-19 pandemic, but with greater and more advanced capabilities.
The Minister of Investment highlighted a set of changes that occurred during 2020, including consumption patterns and technology uses, trade tensions and changing corporate strategies, and the pandemic's impact on supply and demand and foreign direct investment.
Eng. Al-Falih stressed that the Kingdom is continuing to create an exceptional investment environment, as it has changed and amended more than 200 of 400 legislations, which it has reformed to meet the needs of investors. As a result, the Kingdom has leapfrogged global indices on risk and ease of doing business.
He indicated that the pandemic demonstrated the importance of technology and future sectors, such as the data industry, the logistics, biotechnology and others, stressing that the Kingdom is focusing on developing its capabilities in the future sectors. He added that industries need to enhance the strength of the digital infrastructure in order to grow and prosper, supported by the necessary legislation and regulations, and this is on top the Ministry of Investment priorities.
Explore More News
Keep up-to-date with our latest News here.
Explore All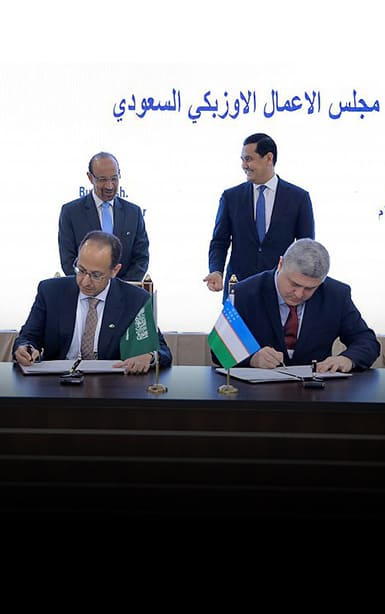 Saudi, Uzbek officials build ties at investment forum in Bukhara
The first Saudi-Uzbek Investment Forum was held recently in the Uzbek city of Bukhara.The forum was held under the co-auspices of Minister of Investment Khalid Al-Falih and the Uzbek deputy Prime Minister and Minister of Investment and Foreign Trade, Sardor Umurzakov.
Know More